Welcome to
Banora International Group (BIG)
Yes, we are open for business. 
The BIG team is thinking of you all during these uncertain times and hope you are all safe and well.
We look forward to continuing to work with you and thank you for your ongoing support.
Creating Life Changing Experiences; Building Life-Long Friendships; Achieving Life-Time Memories
About Banora International Group (BIG)
Since 1996, Banora International Group has become Internationally renowned for creating innovative education-focused, tailor-made programs for all ages.
Programs can be academically focused around study and lectures within structured classes or students may experience a combination of many unique HANDS ON interactive activities OUTSIDE OF THE CLASSROOM.
We create life changing experiences; we build life-long friendships; we achieve lifetime memories through combining culture, nature, wildlife, volunteering, history, language and learning into our programs.
There are several divisions within the organisation managing homestays, farmstays, group study tour programs, and long-term international students on study, volunteer or work programs.
Office Locations & Service Area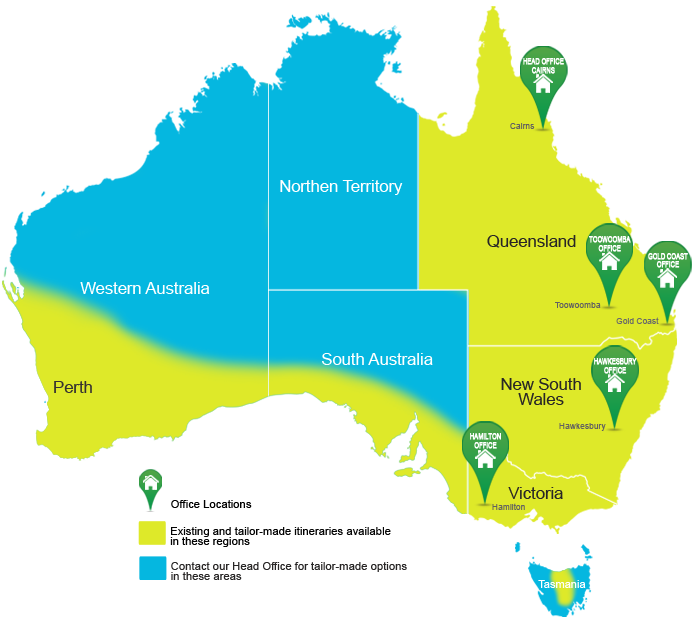 Company Divisions
Banora International Group (BIG) has been a leader in the travel education industry since 1996, with its head office located in Cairns, and supporting offices located along the eastern coast of Australia. BIG features seven divisions, each providing unique cultural or educational opportunities for our clients.  


I have known Janine Bowmaker (CEO of B.I.G) since 2003 when I first started sending students from Japan to the Gold Coast area.

On my return to Australia, I continued to bring students from Japan and looked for a competent homestay supplier. I found to my surprise that Janine had married and moved to the Cairns area. I quickly contacted her and was grateful to have her assistance again.

My business has grown from 1 program in Cairns to 3 (average of 70 students per year) with another possible program beginning in November 2019. This is partly a testament to the wonderful homestay families Banora provides. I am always certain of the quality of the families and have never been concerned about getting a list of families in a timely manner.

It is extremely difficult to find families that can accommodate student wishes and medical problems such as allergies to pets, however Banora always comes through (in particular Junko-san). I would strongly recommend them to agents and to any overseas family looking to have a safe and enjoyable educational program in Australia.
I have been in the position of Director of International Education at Trinity Anglican School for ten years.

During this time, I have worked closely with Janine Bowmaker, Director of Banora International Group. I recommend her services to provide educational experiences for international students from around the world as she has proven to be consistent and dependable over these past years.

Janine has always been professional and organised with the programs we have put together and supportive of the education process. She is both reliable and flexible and always has the customer at heart. Janine has always added a personal touch and genuinely cares for the students and experiences provided to all international visitors.

I have developed a trusting, positive and long-lasting relationship with Janine over the last ten years and I would be happy to recommend her or her business to any client.